A Campervan hire voucher is a great gift for campervan fans: they can start planning their adventure straight away...browsing through our Travel Guides...day-dreaming about fish & chips enjoyed in the van, watching the waves...bliss!
There are two options for our vouchers. We can organise a voucher for you for a particular van & hire period. Or you can just pay a set amount (which will appear on the voucher) and the recipient can choose their favourite van and when they want to go on holiday.
Available for any amount over £50, the vouchers are valid for two years from the date of purchase and can be used for any hire period, in any one of our VW Campers. I can either pop the voucher in the post to you or send it directly to the recipient. Vouchers can be posted out on the day that they are ordered (on week days before 12 noon).
The final day for Christmas 1st class post is Thursday 20th December, so don't delay!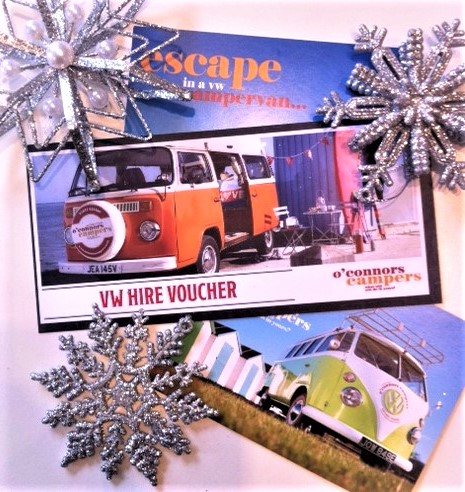 We do ask that you keep our Classic campervans within Devon, Cornwall & Somerset. This is for your convenience and our peace of mind. All of our retro vans are 30 years old or more and are much happier pootling around the country lanes than charging down the motorway! Our new VW California Campervans can travel throughout the UK and Europe.
Please do give me a call at the office on 01837 659599 or email me zoe@oconnorscampers.co.uk if you would like to discuss your voucher!