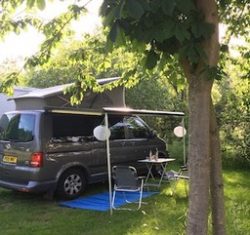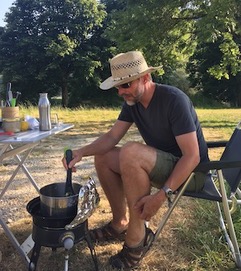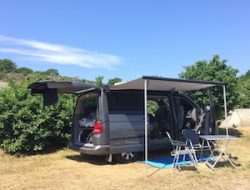 You've reserved your campervan. You've even booked a few sites. But you'd like to know more about camping and discover tips from seasoned campers.
Campfire Magazine…
…could be just the ticket: immerse yourself in all things camping and make the most out of your camping experience.
We talked to the creators of Campfire Magazine Rebecca & Andrew. As VW Campervan owners themselves, their experience and advice could be a real boost to your research.
Where can your campervan take you?
"For us, the answer was a real surprise", says Rebecca. "Our campervan has taken us towards a whole new life…no kidding!
First, a bit of history. We'd always camped – first in a great tent and then in a Citroen Berlingo with the backseats removed and with some (dare I say) clever workarounds. You can read about car camping over at campfiremag.co.uk, by the way.
But now picture this. We get settled in at a nice campsite in France and a swanky new VW pulls up opposite – just close enough for us to see the double bed looking cosy and the front chairs swivelled round and the wind-out awning for shade. Oh no! Another bout of campervan envy. When you've had the cheek to ask four or five strangers if you can look round their vans, you know it's time to get serious.
So, we hired a VW for a week and drove around Wales. We wild-camped and campsited, slept downstairs and upstairs, cooked inside and outside and gave the whole experience a full test. There were some things that took time to get used to – organising yourself in a smaller space, for example, learning what to cook, and getting speedier at swivelling the seats, raising the roof and the general setting up/taking down. But what freedom!
We loved it so much, we had to have one of our own – but it had to be our only vehicle and it had to become part of the way we lived, rather than just something for a holiday now and then.
On the train – headed to the NEC campervan show to check out different models – we imagined what it might be like to drive the van to somewhere beautiful and set up the office inside. How fantastic that would be! 50 miles of travel later and a bit of research on the laptop, we realised there was virtually nothing online that gave interesting, practical, and personal, information on camping and campervans.
Two months later, Campfire Magazine was born. We started small, learnt how to create webpages, wrote article after article on everything from choosing kettles, sleeping bags, tents and campervans to cooking with woodturning stoves and finding the best sites and stopovers. We were so excited when we welcomed our 1,000th reader. Guess what…by July 2018, we had 82,132 readers. Now that WAS exciting.
Campfire Magazine is now three years old. It certainly hasn't made us rich in money terms, but it's definitely made us richer in experience. It's a joy when we get emails or comments from readers who've cooked (and loved) one of our recipes or have been out for the first time with a tent or piece of camping gear we suggested.
We stick to our original idea and will always keep the magazine free of charge for readers – we only feature camping equipment that we've personally tried and can REALLY recommend, we only suggest campsites we (or readers) have actually visited, our recipes are simple but delicious and our tips and techniques are genuinely useful. In fact, it's exactly the magazine we wanted to read on that train journey three years ago."